The Protocol Tool is used to analyse transcripts of interviews or any other text-based information, e.g. reports, specifications, or manuals. The aim is to identify the important aspects of the domain, for example, the concepts, attributes, tasks and relationships.
The tool simulates the way someone would mark-up a page of text using highlighter pens. Each type of knowledge is associated with a different colour, for example, blue for concepts, yellow for processes and green for values. In this way, the user can go quickly through a document highlighting the important knowledge objects.
If notes and comments are required for pieces of text, then this facility is easily invoked using post-it notes. Once marked-up, the highlighted objects are stored in the knowledgebase and are immediately available for use in the other tools.
---
Basic Features

Any number of marker pens
Any type of marker pen
Any number of protocols
Import of files in various formats (txt, rtf, doc, htm, html)
Fully integrated with other tools
Mark-up colours change if objects are re-classified in another tool
Post-it notes
Tabs show all objects marked with a particular marker pen
Options for 'markup next' and 'markup all'
---
Example Protocol
An example of a marked-up piece of text using Protocol Tool is shown below.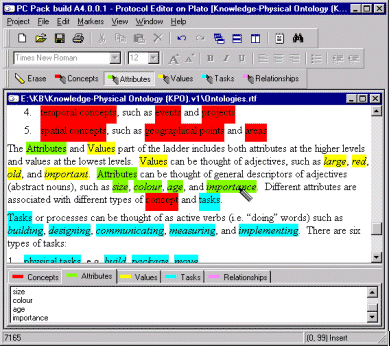 ---
User Interface
The user interface of the Protocol Tool is explained in the following figure.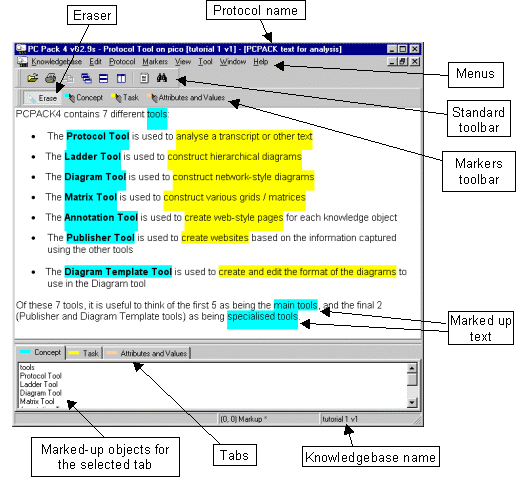 ---
Other PCPACK tools:
Ladder Tool
Diagram Tool
Matrix Tool
Annotation Tool
Admin Tool
Publisher Tool
Diagram Template Tool
Equation Editor Tool
Launcher Wizard Tool