PCPACK6 Launcher Wizard Tool
The Tool Launcher is available as part of the PCPACK suite of tools. It is an active HTML page that provides a simple means for the user to perform various basic operations without opening any of the tools directly.
The tool launcher allows the user to:

View and open the tool contents of a currently open knowledgebase, e.g. all the ladders, diagrams, protocols, matrices that have been created are shown and can be viewed by clicking on the hyperlink
Create new ladders, protocols, diagrams and matrices
Access the help files
Once open, the user can simply click on the appropriate hyperlink in the tool launcher to perform an operation or view a particular ladder, protocol, diagram or matrix.
The launcher is dynamically updated so lists of tool contents will be updated whenever a new ladder, protocol, diagram or matrix is created.
When using a MOKA ontology template, ladders and diagrams may be categorised as Formal or Informal. These will be listed in separate sections in the launch page.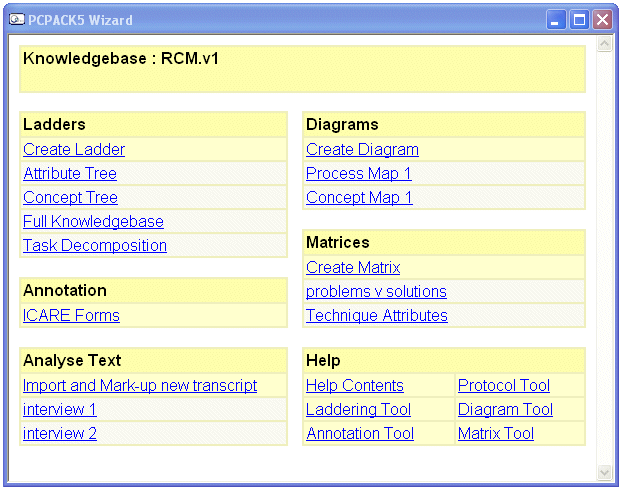 ---
Other PCPACK tools:
Protocol Tool
Ladder Tool
Diagram Tool
Matrix Tool
Annotation Tool
Admin Tool
Publisher Tool
Diagram Template Tool
Equation Editor Tool