Integrated Tools to support Knowledge Engineering
PCPACK is an integrated suite of 10 knowledge tools designed to support the acquisition and use of knowledge.

Technical details are available HERE.

It has the flexibility to support various methodologies such as CommonKADS, MOKA, 47-Steps and SPEDE. Whether capturing knowledge to produce an intranet site, a specialist ontology or knowledge repository, or a knowledge-based system, the tools support a number of key activities:
Analysing knowledge from text documents
Structuring knowledge using various knowledge models
Acquiring and validating knowledge from experts
Publishing and implementing the captured knowledge
Re-using knowledge across different domains

Such activities are vital to most Knowledge Engineering and Knowledge Management projects. The use of software to support such activities helps in many ways to make the process more efficient, effective and consistent.

PCPACK is a network-enabled application that allows knowledgebases to be stored and accessed by multiple users over a network. Each user has defined access rights that allow or restrict their ability to edit and view certain knowledgebases. For example, a user can be allocated full access rights, edit-only rights, read-only rights or website-only rights. The management of knowledgebases is controlled by a central administrator - called a Tool Administrator - who handles version control of knowledgebases.

PCPACK has been developed as part of the ongoing development of the PCPACK family to satisfy the requirements of large organisations that require multiple users of a single knowledgebase. For those who need it for semantically-based KBS applications, PCPACK6 introduces the latest RDF functionality that allows you to export or import files in RDFS and OWL RDF formats. A Language Translator module is also now included.
PCPACK saves time and resources in the following areas:
An integrated workspace in one desktop environment eliminates the need for several software applications.
There is no need to use a spreadsheet, word processing, database, or diagramming tools because all functions are contained in PCPACK.
No normalisation of data. Data is normalized naturally in the process of input and analysis. This is a major time saver since generally projects require creation of a data structure and normalisation of data to fit that structure.
Quicker review by analysts and subject matter experts. Visual representations enable rapid review. When detailed review is required users can drill down into detailed forms and descriptions.
Less time spent researching and looking for related information.
PCPACK integrates links to reference information, documentation, images, and videos, and stores them for easy retrieval.
Quick data entry through import of documents and easy markup of content using software 'marker pens' to categorise and store concepts and tasks identified within the documents.
An integrated user interface with several views that are all inter-connected.
The PCPACK tools keep data configuration managed and aligned. A change in one view changes all views of the same information.


Examples of Knowledge Models are available HERE.
Integrated suite of 10 knowledge tools
Makes the process more efficient, effective and consistent
Analysis of knowledge from text documents
Validation of knowledge from experts
Knowledge models are navigated using standard browsers
Re-using knowledge across different domains
Export and import of files in RDF format
Language Translator look-up module
Network-enabled and accessible by multiple users
Each user has defined access rights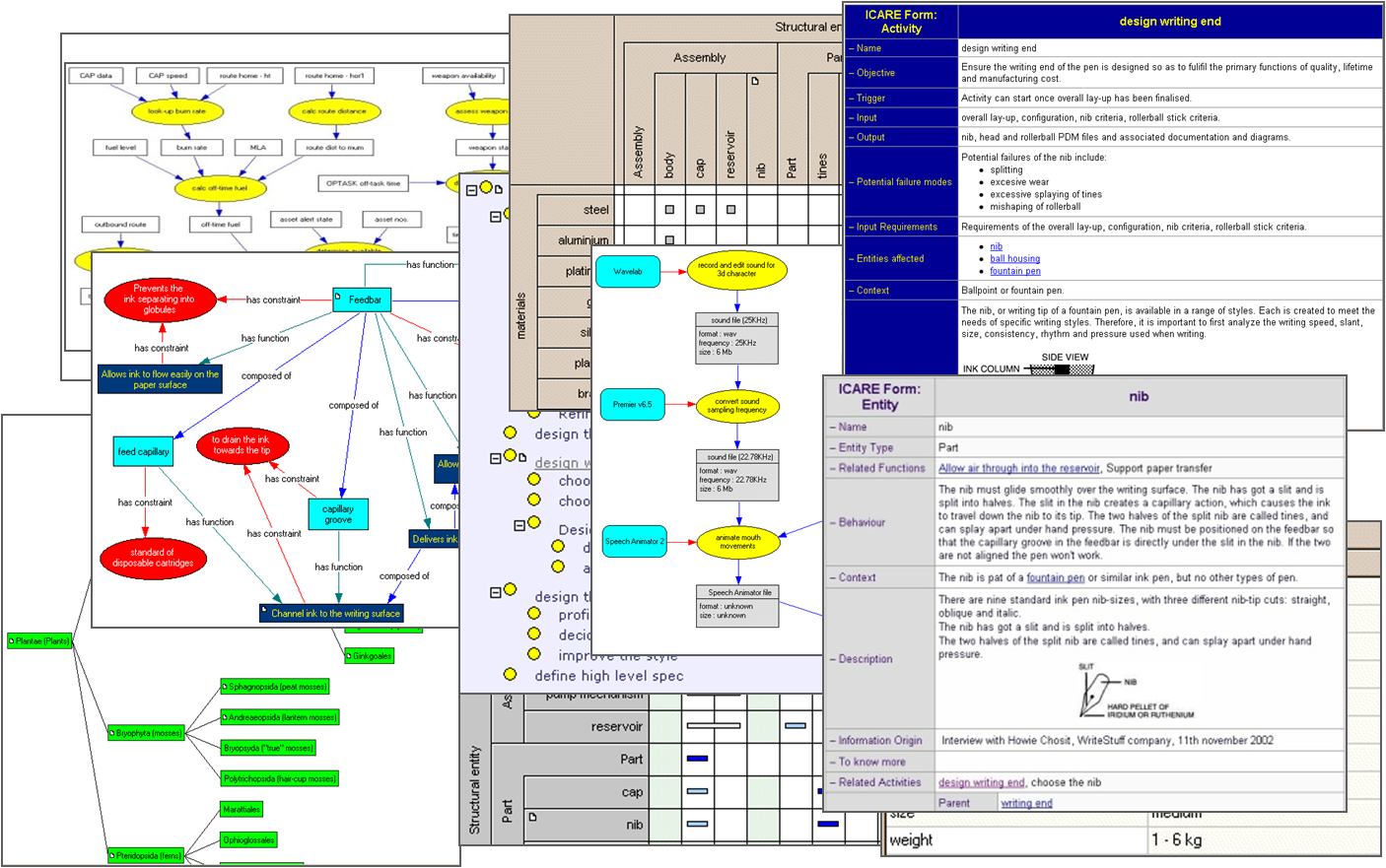 Knowledge webs and knowledge books present the contents of a knowledge base to end-users in a clear and navigable way:
A knowledge web is similar to an ordinary website but is more structured and meaningful.
A knowledge book can be printed out from an entire knowledge web or selected pages of a knowledge web can be printed to create a knowledge book.
A knowledge web or knowledge book is often generated automatically from a knowledge base using special software such as PCPACK.
A knowledge web or knowledge book is structured around a number of items of knowledge called concepts.
Each concept has an associated page (a k-page) that describes the concept using a structured format (usually a grid).
There might typically be around 200 knowledge pages in a knowledge web or knowledge book.
The hyperlinks between knowledge pages have a meaning which is shown by the contents of the page (by the headings in the left-hand column of the grid).
As well as pages of information, a knowledge web or knowledge book can show graphical representations of the way concepts link to one another (e.g. using trees and maps).
A knowledge web or knowledge book will usually feature a number of ways of finding knowledge, such as tabs, an A-Z list, a glossary, a browser tree, a word/phrase search facility and hotlinks on diagrams.
Download this reference overview from K-based, our US associates: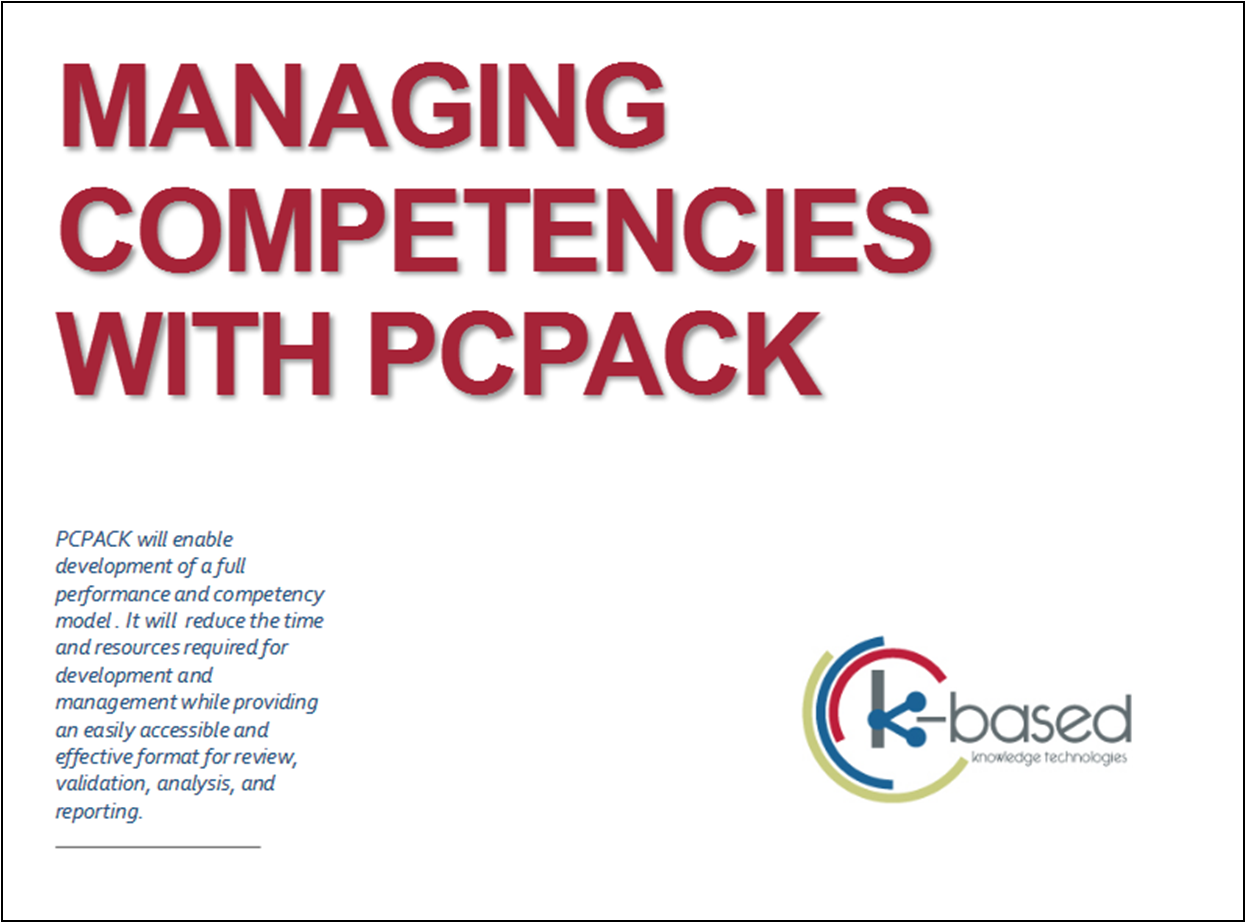 Ease of data entry (knowledge objects, attributes, values, and relationships) by graphical, text, or import and markup methods
Data integrity and consistency across all views and tools; a change is one view changes data across the knowledge base and as an all-in-one application, eliminates the use of multiple applications and software to represent processes, products, and concepts - no spreadsheets, diagramming, web development, and word processing applications needed.
Embed how-to and expert knowledge directly into task descriptions and flow diagrams
Ease of edit of all knowledge objects and relationships
Easy output of published knowledge webs and knowledge books
Rapid development and customization of knowledge models and ontologies
XSLT style sheets provide in depth and customized analysis and reporting
User friendly development interface and knowledge web navigation
User friendly knowledge base and easy to use customized reports
Comprehensive User Manual for reference and step-by-step procedures
Creates the foundation for decision support technology, smart project management, and semantic search and information systems
Defined access allows for customs views based on access rights